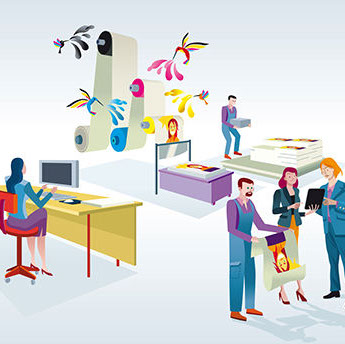 From posters to hard-bound books to brochures of all shapes and sizes, we can produce it all. Foil stamping, embossing and die-cutting? No problem. Stitched or perfect bound books? We do them in our sleep. Do you need ten? Digital printing is a piece of cake. Do you need ten-thousand? Offset is in our blood.
Do you need a new look for an existing website or need one built from the ground up? Need some help putting together the perfect brochure to showcase your business or want to update your look overall with new logos and stationary? Our designers can turn your ideas into reality.
Need some "swag" to hand out to your customers or have at your tradeshow booth? Need a backdrop, banner or display boards for that booth? Yep, we do all that too! We are ready to find you that special item with which you want to represent your company.
Are you a printer that is looking for a new diecut vendor? With most dies made in-house and others available within 24 hours, our turnarounds are second to none. Ask us too, about your embossing, foil stamp, folding, handwork, kitting and assembly needs!
For us, customer service isn't a department, it's a culture. Our employees each take pride in ensuring that we exceed our customer's expectations. Our partners are chosen because they have the same philosophy. We also work with many "green" facilities that are FSC-Certified, Rainforest Alliance Certified, Wind-Powered and more.
From initial design through fulfillment, quality is our first priority. We guarantee a quality piece delivered on time, every time. Our in-house services and long-standing vendor relationships allow us to provide lower pricing and exceptional turn around times.


We stand by all materials produced by Chase Products and guarantee 100% satisfaction or we will make it right for you, 100% of the time.
Click on one of the links below to learn more about our services.